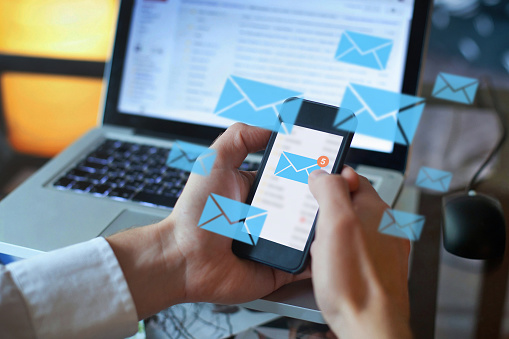 We've all heard it at some point, email marketing is out, and social media is in. Although social media is splitting marketing budgets, email isn't going anywhere and still remains the highest ROI for B2B marketing. In fact, Statista suggests that the number of email users will actually increase from 3.9 billion in 2019 to 4.48 billion in 2024. We've put together some reasons why email remains the go-to for marketing campaigns.
AFFORDABILITY
The undisputed argument for email marketing it its affordability. The great leveller for small and large businesses alike as today the competition for Email Sending Platforms (ESP) means B2B organisations of any size can enjoy significant numbers of free emails before signing up to paid packages. No matter whether you are working for a large or small organisation, your marketing team needs to make the most efficient use of its budget.
Research shows that the average ROI for email marketing delivers £36 for every £1 spent. For this low cost, with the right data, any size organisation can reach large numbers of qualified leads with targeted emails at a fraction of the cost. This is particularly effective for B2B organisations which are helped massively by the volume of open-sourced organisations and contact information available online. Apart from the costs of running an ESP and/ or a CRM, the main outgoing is the employment of in-house marketers and effective list builds of appropriate and validated contacts. The strength of investing in a list build is felt by allowing your marketers greater efficiencies in sending targeted, segmented emails with greater efficiency, further improving ROI by an average of 34%.
TARGETED MARKETING
This leads on to the enhanced effectiveness which comes with targeted marketing emails. We all know that sending variations of the same, generic emails to your entire list is a quick way to see the unsubscribe numbers jump. To maintain high Click Through Rates (CTR), messages need to be diverse, and relevant to your audience. A pain faced by a Purchasing & Procurement Director may not be the same to a Head of HR contact. This why it is most effective to segment your list into separate categories to allow you to focus on specific pains of certain organisations, job functions, or seniority. Although essential, segmentation is still heavily under-utilized as an email marketing strategy.
Over the long-term, targeted marketing also develops better relationships and brand value to prospects. Showing early on that you specifically understand a client's requirements is the quickest way to build trust. The CTR of targeted, automated emails are 152% higher than generic campaigns. This relevant content (hopefully as this blog shows) over time will develop higher expectations from your emails.
Finally, targeting emails is a sure way to move prospects down the sales funnel quicker to develop as a SQL. With the right volume and quality contacts, this will increase the efficiency of your marketing campaign bringing back greater ROI than social media.
EASY TO MEASURE
With today's email marketing tools of email sending platforms or CRMs we have an unrivalled ability to track the results of email campaigns. By monitoring CTR, delivery, bounce, and unsubscribe rates, this insight allows for a more comprehensive understanding of how your email campaigns are succeeding, which ones to alter or which ones to get rid of altogether. These metrics are vital for running a successful and efficient marketing campaign and allow you to develop a marketing qualified lead (MQL) into sales qualified lead (SQL) with ease.
While there are various research studies and articles that present ideal numbers to aim for, these are all relative according to your industry target audience and quality of your data. If your results suggest that your clients are enjoying and expect regular, informative emails, you would be naïve not to provide them. However, balance of content and outreach frequency are key to avoid high unsubscribe rates. In summary, to make email marketing work for you, it's all about utilising your email marketing tools to understand your target audience the level of communication/type of content that they react to and working this out by comparing results with email market.
To wrap up, email marketing is here for the long haul, its overwhelming benefits when put side-by-side with alternative marketing are plain to see. Although developments such as social media and AI will work to effectively compliment email marketing, for B2B at least there are few reasonable signs to suggest the landscape is changing. The affordability, adaptiveness, and ability to analyse email look to remain an unrivalled tool for the marketing team.