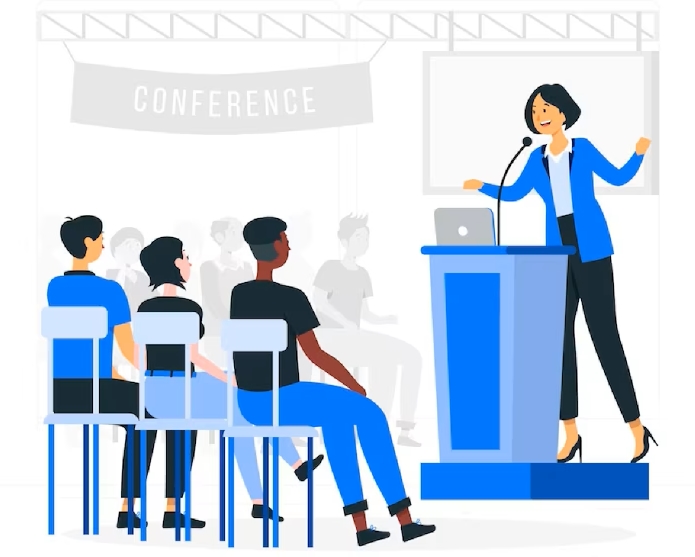 Carrying out an event – no matter the size – is no easy task, but understanding some of the terms used before, during, and after the occasion makes it a whole lot easier.
So, whether you're new to event planning or just need to brush up on your vocab, here's our event glossary so you can talk the talk with the best of them.
Attrition Rate
The attrition rate is a measure of the number of those who register for an event but do not show up. It is calculated by dividing the number of registrants by the number who attend. So, if there are 1,000 registrants and only 800 attend, then the attrition rate is 20%.
Banquet Event Order (BEO)
A Banquet Event Order is a document that outlines the details and instructions needed for a venue to successfully host an event. This includes information such as the number of attendees, room setups, and staff requirements. The document ensures everything is outlined and agreed upon by the venue and the event organiser.
Breakout Rooms
Breakout rooms at events are small meeting rooms where presentations, meetings, or small-group discussions can take place during an event.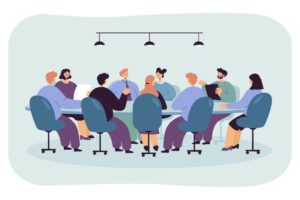 Certified Meeting Professional (CMP)
Certified Meeting Professional is a well-recognised, event-specific qualification for professionals in the meeting, convention, and exhibition industries.
Confex
Confex is a term given to an event that mixes both elements of a conference and an exhibition, for example, a conference that includes exhibition-style stands and presentations.
ExProm / VisProm
Abbreviations of 'Exhibitor Promotion' and 'Visitor Promotion'. ExProm campaigns are dedicated to generating exhibitor leads by targeting people and organisations to showcase their products/services. VisProm campaigns are aimed at getting people to sign-up and attend the event.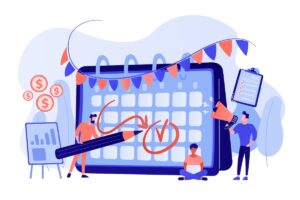 Force Majeure Clause
A Force Majeure Clause is found in most venue contracts and is used to prevent the facility from being liable to circumstances outside of their control such as a natural disaster that could affect hosting an event. The clause should apply equally to both parties in the agreement.
Hygiene Factors
These are the elements that can hamper an attendee's enjoyment of an event such as slow queues for food and drinks, untidy toilets, and slow Wi-Fi. While presentations or exhibits may run smoothly, hygiene factors need to be addressed to make the whole event a success.       
Keynote
This refers to the presentation (keynote speech) or the presenter (keynote speaker) that is the highlight of an event. The keynote speaker is the lead speaker for the event and is often the first to present with the role of setting the tone for the occasion.
Load In / Load Out
'Load in' is the specific period of time for loading in and setting up equipment for an event. 'Load out' is the time period given to dismantle and remove equipment from the venue at the end of an event.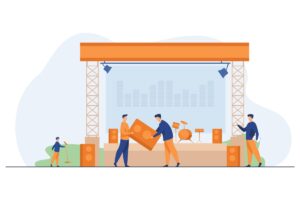 MICE
MICE is the internationally used abbreviation to refer to 'Meetings, Incentives, Conventions and Events' sectors.
No-Show
A no-show is a term given to someone who signs up for an event but does not attend.
Over-Set
Over-set refers to the number of seats a venue will plan for beyond the number requested by the event organiser. Typically, venues will over-set by 10%, so if there is a guaranteed count of 1,000 attendees, the venue will set for an extra 100 guests.
Pre-Reg
An event pre-registration is the process where people register their interest in attending an event rather than committing to attend it. This is done to test how popular an event may be and whether it is worth running.
Rebooks
During and after an event, sales teams contact exhibitors to rebook for the following year. Rebooking exhibitors can make up as much as 80% of the revenue of an event and so are vital to its success.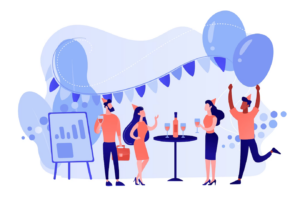 Request for Proposal (RFP)
This is a formal document that outlines the details and requirements of an event, sent out to solicit proposals from potential venues and suppliers. An interested venue would respond with a proposal on how they would meet the requirements.
Session
These are smaller gatherings that take place during an event. Guests can usually attend several sessions throughout the day, while some sessions may require additional payment to attend.
SMERF
SMERF is the acronym used in the meetings industry for those events that cover Social, Military, Educational, Religious, and Fraternal groups.
White Box
White box is a term given to a venue that is easy to brand as it has minimal decorations and lots of space for signage, decals, and other branding apparatus.